There are many types of baby carriers. But some more than others are designed with ergonomics in mind. It is important to consider ergonomics when choosing a baby carrier to ensure that both you and your baby are safe and comfortable. Below are a few different types of baby carriers you can consider:
Ring Slings
These are typically woven, non-stretchy fabric that is long, with two rings on the end. The free end gets passed through and back through the rings to create a lock that allows baby to sit comfortably, upright, facing the parent.
Timing: Birth – as long as your child will let you wear them.
Pros:
– It's fast and convenient
Cons:
– It can take practice to get baby in the best position.
– It's also like a messenger bag so it puts more pressure on one shoulder than the other.
Moby/K'tan
These carriers look like a wrap and are made of one long piece of stretchy fabric that allows you to use it to carry your baby in multiple positions as your baby grows. Because it is one piece of fabric with an adjustable fit, the carrier can be used by multiple caretakers and parents.
Timing: Birth through just about 15 lbs. Once the baby is 15 lbs the fabric tends to stretch too much and they are no longer in a safe position.
Pros:
– Stretchy fabric
– Inexpensive
– Easy introduction to babywearing
Cons:
– The Moby is one long piece so it can be a little intimidating to use and warm depending on climate.
– The K'tan is preset sizes so it may not work well for different parents to share. These are cheap and therefore offer an easy start to babywearing.
Mei-Tai
This is a Japanese carrier which provides the structure of a buckle carrier, but the fabric of a woven wrap. The flexible style adjusts to create a comfortable fit for all body types and allows for carrying in three different positions as your baby grows.
Timing: Six months to as long as they let you carry them.
Pros:
– It's easy to use
– Comfortable for both mom and baby
– Relatively inexpensive compared to some of the buckle carriers.
– There are options with adjustable bases to accommodate smaller babies (Fidella Fly-Tai, Hop-Tye) because it needs to be cinched to the width of the knees.
Cons: 
– The straps have a tendency to drag on the ground if you're not careful.
– Does not work for younger babies as there is no neck and head support.
Soft-structured (buckle) carriers
These are the most common types of carriers.
Timing: They should NOT be used until the child is sitting up on their own because it doesn't offer the lateral stability available in the other carriers.
Pros:
– Can adjust sizing for different caretakers and parents.
– Comfortable for older or heavier children.
– Most versatile baby carrier.
Cons:
– Buckles and straps can rub and be uncomfortable for the wearer.
– Shoulder straps can dig in and be uncomfortable.
– Does not hug the baby's shape.
– Can be the most complicated baby carrier to use.
Tips: They all fit differently so people should really try them on. Always wear baby in the parent-facing position because forward-facing causes extension of the spine before it's ready and creates lateral forces on the hips that can lead to dysplasia.
Types: Ergo, Tula, Lillebaby, Boba, Kinderpack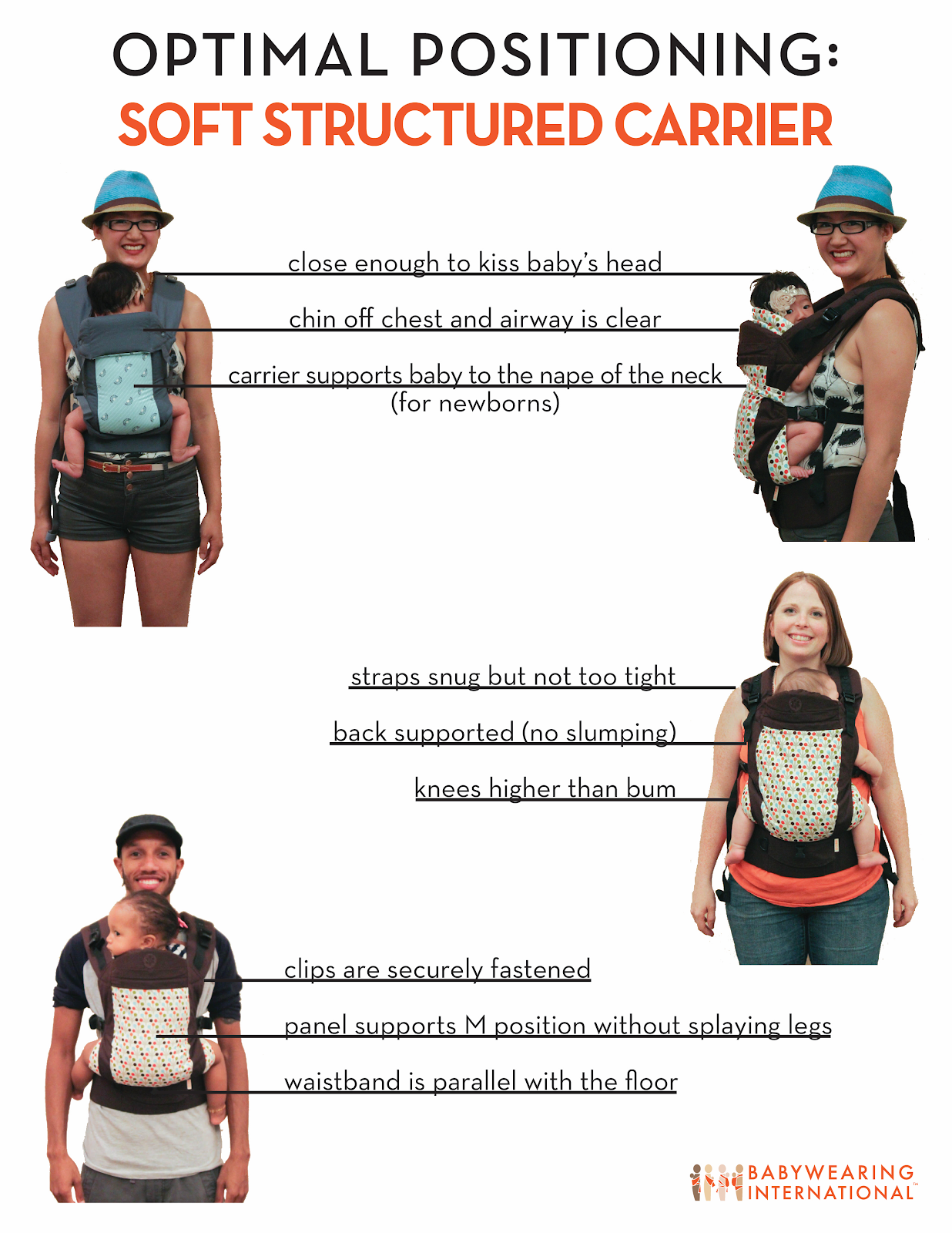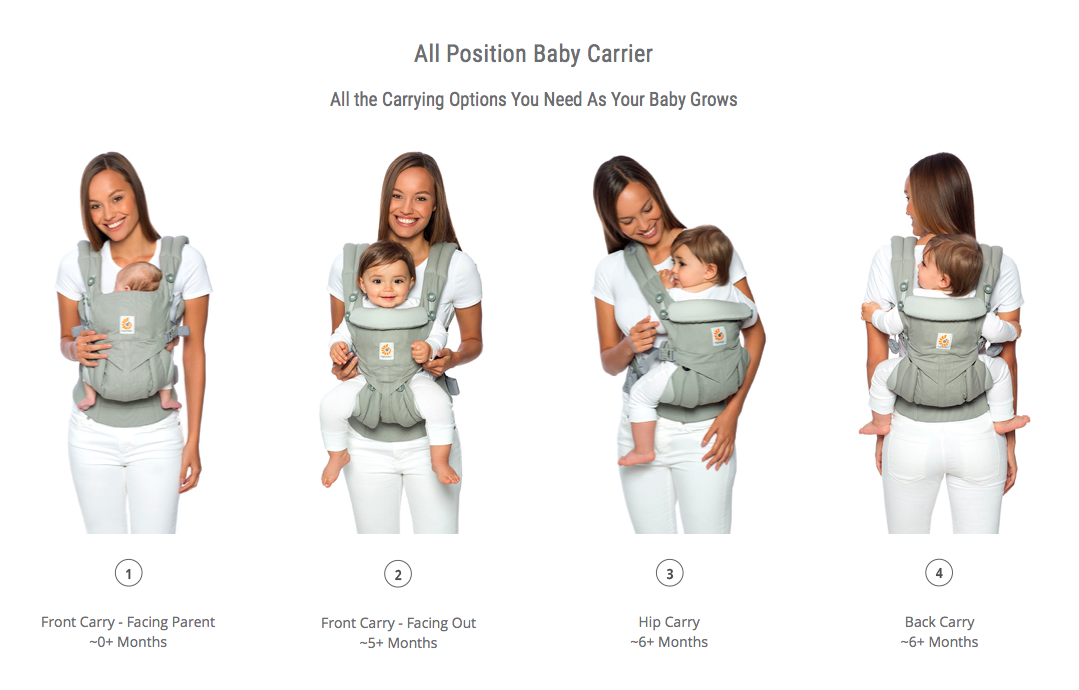 When wearing your baby remember:
1. Baby should be visible and kissable with airways open with the chin off their chest.
2. Baby should be upright, facing parent and not facing away.
3. Base of carrier should go knee-to-knee, keeping the knees higher than the bottom with legs in a spread squat position. This will ensure adequate support for the infant developing spine.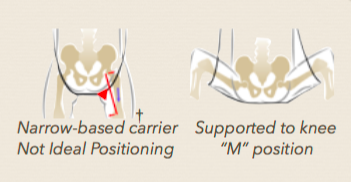 Interested in getting more tips on baby carriers? See our other blog post in this series here.
Resources:
Babywearing International, Inc.