Baby carriers are a popular way to get around easily with your baby and build the skin to skin relationship between baby and mama as well as partner or caregiver. Babywearing can be more convenient and comfortable to use compared to a stroller or other carriers. However, it's very important to wear your baby in a baby carrier correctly to ensure there is no stress placed on the growing spine and hips and to make sure that you and your baby are safe and secure.
Here are some safety tips for using baby carriers:
Do your research before buying. You should read reviews before using any baby carrier. Make sure that any carrier you are considering has passed quality and safety standards. Read reviews or ask your child's pediatrician or chiropractor if certain carriers are better for your baby than others. The last thing you want to do is use a carrier that is uncomfortable or unsafe for your baby.
Support the baby's head, neck, and back. Just like when you hold your young baby, you have to support their head and neck until they are able to hold their heads up themselves. Infants should not be carried facing out until they have control of their head and neck and can sit up on there own. An ergonomic carrier can provide better support for baby and can be more comfortable for the caregiver. The guidelines are different for every carrier so be sure to check the age guidelines associated with your carrier to make sure that you are carrying your baby in the proper position.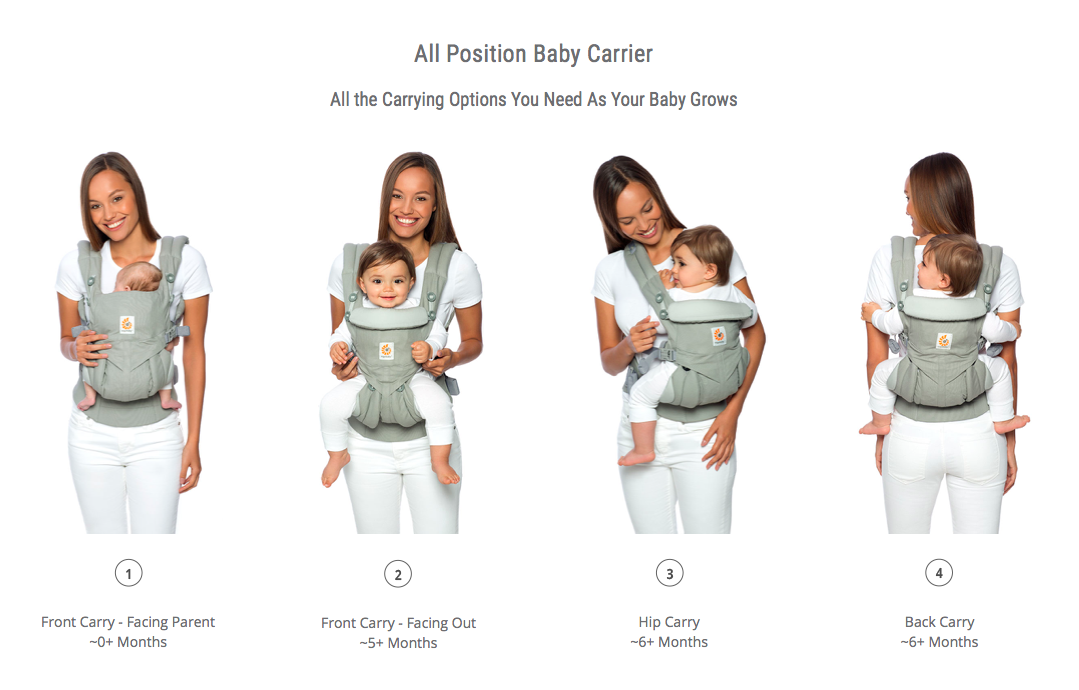 Keep their airways clear. When carrying your baby facing towards the front of your body, which you will be doing until they have full control of their head and neck, make sure their face is visible so that they can easily breath while you use the baby carrier. Make sure they are high enough so that you can easily see that their chin is off their chest and that their heads are upright.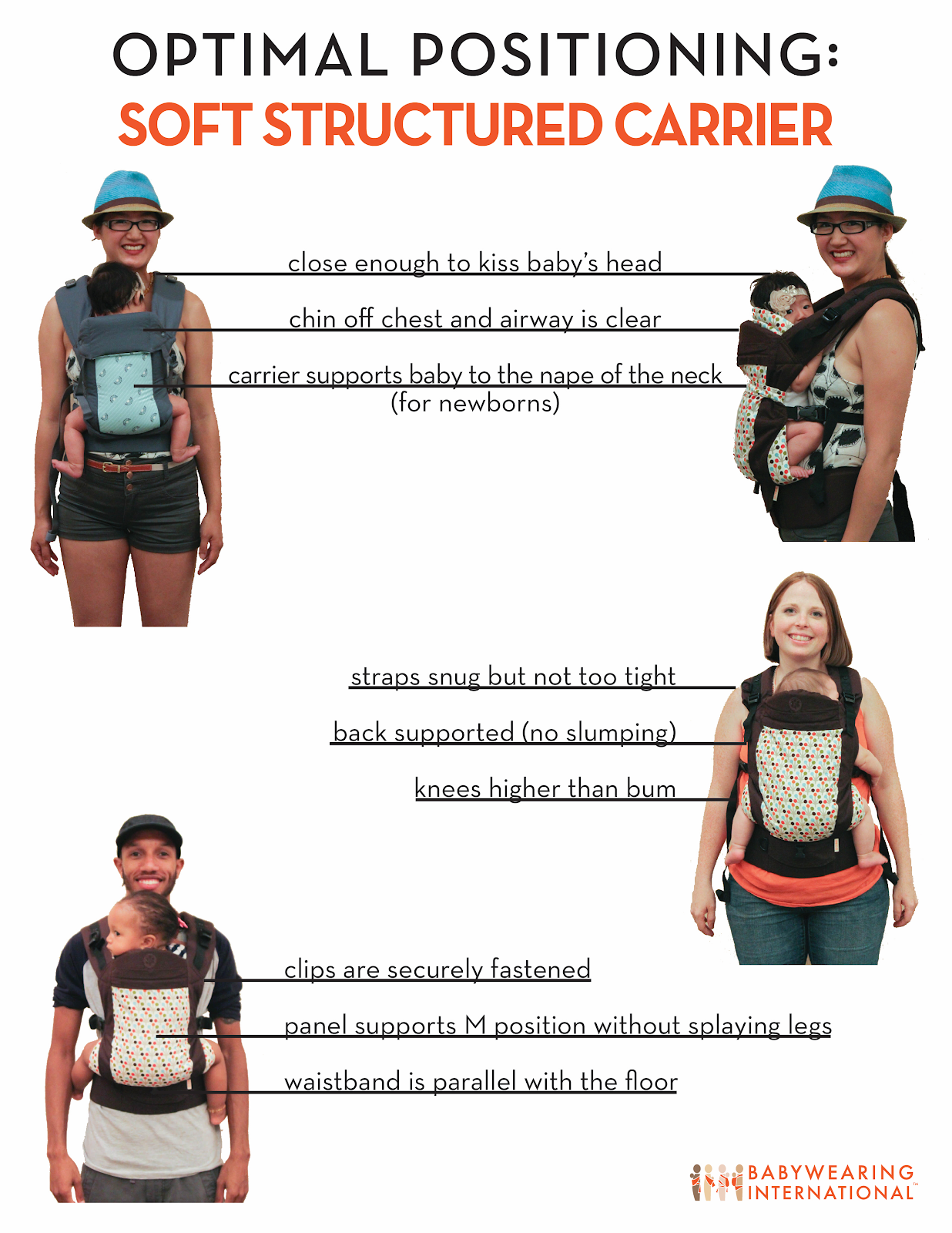 Be careful of the baby's hips. If your baby is not positioned correctly in the carrier, they are at risk of hip dysplasia. Hip development issues occur mostly in the first 4 months of a newborn's life. So, special attention should be given to young babies. The base of carrier should go from knee-to-knee, keeping the knees higher than the bottom with legs in a spread squat position. This will ensure adequate support for the infant developing spine. Also, be sure to take frequent breaks from the carrier so that the baby can move its hips, knees, and the rest of the body around freely.
Check the integrity of the carrier. You don't want to use a baby carrier that is at risk of ripping or tearing while you are carrying your baby. Check your carrier for rips or worn fabric to ensure that it is still in good shape before each use.
Practice and gain proper core strength before using a babywearer. For new mamas its very important to practice and regain core strength since the carries to place extra weight in the front of the body and can cause an increase in lower back curve possibly leading to lower back pain. Reach out to your chiropractor to help you with postpartum pelvic alignment and safe core strengthening exercises.
Don't forget, you're wearing a baby. Be aware that your baby is in front of you while you are out and about. Don't drink or eat anything hot that you could accidentally spill on your baby. Don't wear a baby carrier while in a car or doing any activity that you would not hold your baby. When picking something up, don't bend over at the hip and send your baby for a roller coaster ride. Also, be mindful when you go through doorways or around corners. Just remember, you are wearing a baby so your baby is making your body take up more space than normal.
Do you use a baby carrier and what is your favorite baby carrier?